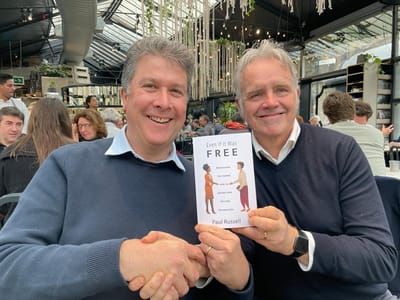 FREE GUY is a real person!!
My first book - Even If It Was Free - was inspired by the incredibly smart Mark Bew.
Mark uttered the infamous words - in my mind - during a classic and being honest, run rate business meeting. He challenged the norm by suggesting that 'even if it ( the tech ) was free he wouldn't sign the contract'. Here was a senior business leader turning away something he knew he needed for his business.
That day changed my mindset. I like to call it a Diverger's Mindset and my book peels open the onion on how a trilogy of temptation can block our view from what value means - and how we get there.
A mindset that I call a 'messy' mindset because it is all about the three pounds of squidgy stuff between our ears. A place of fascinating and amazing feats every day but also a hive of fraility where bias creeps in to effect beliefs and decisions we made. Add more people to our circles of influence and we can suffer from Groupthink.
A mindset that is more important than ever because of the relentless pressure it seems to go faster, be more agile and converge on getting the job done.
I now coach along this 'messy line' finding it incredibly rewarding to help others take a moment to reframe a problem, seek diverse thoughts and identify different ways to getting a value outcome. A myriad of thoughts around culture, trust and cognitive skills - active listening, beautiful questions and story telling.
This is what I cover in my workshops - "60 minutes to make a difference" and "How Might We What If We" - using elements of the Design Thinking philosophy combined with my years of experience in consultancy, sales,executive leadership and technology innovation.
If this is something on your mind please contact me and we can schedule some time to talk.
Schedule a conversation here
https://calendly.com/paulrussell/30min